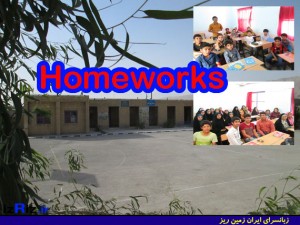 This assignment is about telling a memory or description of a short trip to some where:
لیلا آذریار:
۳ weeks ago my family and I went to travel we went by our car. our destination was Yasuj city this city had great weather. we went to several small village from this city. peoples village were very warm and friendly and their jobs were rancher and agronomy. around the way were gardens of apple and old walnut trees.
their building were old and staircase.
one day we went to Margon water fall.it was very interesting. we took pictures with.family there. it was touristy place.we had fantastic time in this trip and we come back after 5 days.
ابوالفضل رفعتی:
tow years ago I went to the kish and it was scenic because the ship was really equipped and everything was good in ship but sweep it was very long.
It was a great restaurant inside the ship. food it was great and delicious and people was friendly.
Kish was very hot and humid .I was swam in sea every day .I went whit my new friends every morning in the park and played tennis together.
I went to the Keshti Unani and it was interesting.
and we got back after ten days.
THE END
صغری مصلحی پور:
last year my husband and i went to shiraz with bus .it was too long but we didn't too tired because we watched film on the way .first we went to Shahcheragh and we had a good feeling there. then we went to Perspolis and we ate lunch in the gardens there and we enjoyed of nature !after that we visited the market and i bought a bracelet with my name on it was written with cuneiform that was very nice! we met two tourists who wanted address !i stressed and i couldn't talk with them !and my husband gave them the address !whenever i think of that day i laugh to myself :))) it was so funny!
ریحانه غریبی کوشا:
last year ,i was on vacation.so I went to America.oh ,my God,the flight was very nice and i stayed in a really good hotel .just loved it.i and my friends went at the restaurant really good .the food was incredible .so,the weather was very perfect I and my friend sara went swimed .we had a good time.really we missed you!
مدینه مصلحی پور:
bout two months ago i went to travel to Mashhad.it was rather short only six days . the weather was warm but the trip was pretty nice for me I went to the shrine of imam Reza and i ate dinner in the imam Reza  restaurant ,it was so amazing. then i went to the arman complex and i watched waterfall Arman complex was quite scenic.
سکینه مصلحی پور:
Last year  I went to Shiraz with my aunt. it was so comfortable and it was quit scenic .I'm so happy Because I saw Ardeshir palace and the Shiraz was beautiful. we ate roast chicken every day
I so glad that speak to you anyway
مرضیه نوروزی:
last night my friend and i went to the kangan and then walked along to the beach and enjoyed of sunset !it was so relaxing ..also we went to the   Safi restaurant..we ordered soup ,salad and grilled fish main course and dessert .the food was very delicious and great ! next day we went to the city center passage for shopping …our trip was pretty short but it was fun!
تاریخ انتشار : 17 اکتبر, 2015
تعداد بازدید : 2595